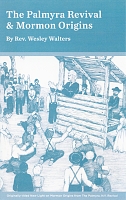 ---
Product Code:
XB149
Title:
The Palmyra Revival & Mormon Origins
Author:
Rev. Wesley Walters
Publisher:
Mormon Research Ministry
Price:
$4.00
Date:
2012
Pages:
34
Additional Info:
Originally titled New Light on Mormon Origins from The Palmyra, N.Y. Revival

---

Description

From back cover:

It has been readily accepted among members of The Church of Jesus Christ of Latter-day Saints that a "religious excitement" took place in Palmyra, New York in the spring of 1820. Mormons are told that it was this 1820 revival which sparked a young Joseph Smith to seek God and to ask which of all the churches were true. However, the accuracy of the "official" First Vision account was seriously challenged when a researcher by the name of Wesley Walters discovered that there was no 1820 revival in Palmyra. To this day the Mormon Church continues to ignore the evidence which both undermines its very own origins, and the credibility of its founder, Joseph Smith.
---
---
Authors Only | Authors with Titles | Titles by Category | Titles Only
---
Home | FAQs | What's New | Topical Index | Testimony | Newsletters | Online Resources | Online Books | Booklist | Order/Contact | Email | Other Websites