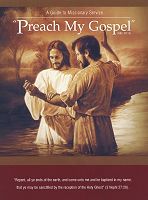 ---
Product Code:
XB133
Title:
Missionary Lessons (Preach My Gospel)
Author:
Publisher:
LDS Church
Price:
$12.00
Date:
2004
Pages:
228
Additional Info:
A Guide to Missionary Service

---

Description

New 2004 edition of the LDS Missionary Lessons published by the LDS Church.

Table of Contents

First Presidency Message
Introduction: How Can I Best Use "Preach My Gospel"?

What Is My Purpose as a Missionary?
How Do I Study Effectively and Prepare to Teach?
What Do I Study and Teach?

Lesson 1: The Message of the Restoration of the Gospel of Jesus Christ
Lesson 2: The Plan of Salvation
Lesson 3: The Gospel of Jesus Christ
Lesson 4: The Commandments
Lesson 5: Laws and Ordinances

How Do I Recognize and Understand the Spirit?
What Is the Role of the Book of Mormon?
How Do I Develop Christlike Attributes?
How Can I Better Learn My Mission Language?
How Do I Use Time Wisely?
How Do I Find People to Teach?
How Can I Improve My Teaching Skills?
How Do I Help People Make and Keep Commitments?
How Do I Prepare People for Baptism and Confirmation?
How Do I Work with Stake and Ward Leaders?
---
---
Authors Only | Authors with Titles | Titles by Category | Titles Only
---
Home | FAQs | What's New | Topical Index | Testimony | Newsletters | Online Resources | Online Books | Booklist | Order/Contact | Email | Other Websites