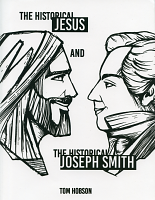 ---
Product Code:
XB397
Title:
The Historical Jesus and the Historical Joseph Smith
Author:
Tom Hobson
Publisher:
Elm Hill
Price:
$10.00
Date:
2019
Pages:
90
Additional Info:

---

Description

From back cover:

Jesus of Nazareth and Joseph Smith Jr. — two extremely important men to know! Using standard tools of the historian that do not require faith, we can indentify undeniable facts on both men. What we're looking for is trustworthiness and consistency. We want to know: can we trust these men to lead us to the one true God?

Table of Contents

Why We Must Know the Facts about Jesus and Joseph
Historical Bedrock in the Life of Jesus
Uncertainties in the Life of Jesus
Examining the Wildest Claims about Jesus
Who Can Tell Us the Truth about Joseph?
Joseph's Approach to Alcohol, Tobacco, and "Hot Drinks"
Joseph's Approach to Marriage
Joseph's Views on Race
Joseph's Evolving Views on God
Joseph's Far-Reaching Claims
Joseph as a Translator of Scripture
Did Joseph Die a Martyr's Death?
By Their Fruits Shall We Know Them?
Who Is Most Worthy of Our Trust?
---
---
Authors Only | Authors with Titles | Titles by Category | Titles Only
---
Home | FAQs | What's New | Topical Index | Testimony | Newsletters | Online Resources | Online Books | Booklist | Order/Contact | Email | Other Websites